SUNÉ WOODS
KOREATOWN, LOS ANGELES
Suné Woods works from her home in Koreatown, Los Angeles. Sunlight falls on the hardwood floors, while ripped and altered images cling to the walls. Her studio is filled with music, work desks and a whole library of books. My favorite item is a vintage pink velvet chair, which I can only assume is the birthplace of many great ideas. Although she has a separate room for her art studio, you can see that she uses every surface of her home as a workspace. Suné explores a multitude of mediums including collage, photography, video installation and performance art. She uses found imagery to reconstruct a new physical and emotional landscapes. Themes of family and personal identity run through her work. She talks about appropriation of black culture and reclaiming the black body. Her work is both powerful and fragile in the same moment. Despite the demanding schedule of being a mother to a young child and a teacher at the California Institute of the Arts, Suné keeps a rigorous studio practice. We feel lucky to have gotten such an intimate look at her work and temple of inspiration.
Suné Woods is represented by Papillion. Keep your eye on her here: Website | Instagram
Interview by Britt Harrison. Videography and Photography by B. Justine Jaime. Posted February 9, 2016
Childhood
My summers were spent on my grandparents' farm in Ohio and the other months I lived in Lantana, Florida. Going back and forth between the Midwest and South Florida, I experienced the cultural landscapes of both places; both were formative and alienating in different ways. In Ohio, my family looked very different from me, and it was clear early on we were experiencing the world through particular lenses. I also spent a lot of time with the animals and played alone in the woods. In Florida, there were more people from many parts of the world, and I identified more so with Caribbean culture, but the schools I attended implemented a skin based tracking system.
Photography
Visual language is the primary way that we communicate, through various platforms, but I think that there's a power in a way that images are used to represent and determine how one is empowered or disempowered. I'm also interested in the limits of representation through photography.
Digital or Film
For me, it's really about what needs to be communicated and how that can manifest in the most inexpensive way. I'm not driven by the preciousness of things. I don't have a strict preference, it depends on what I need to do. I love what film can do, but it's more important that the work is made.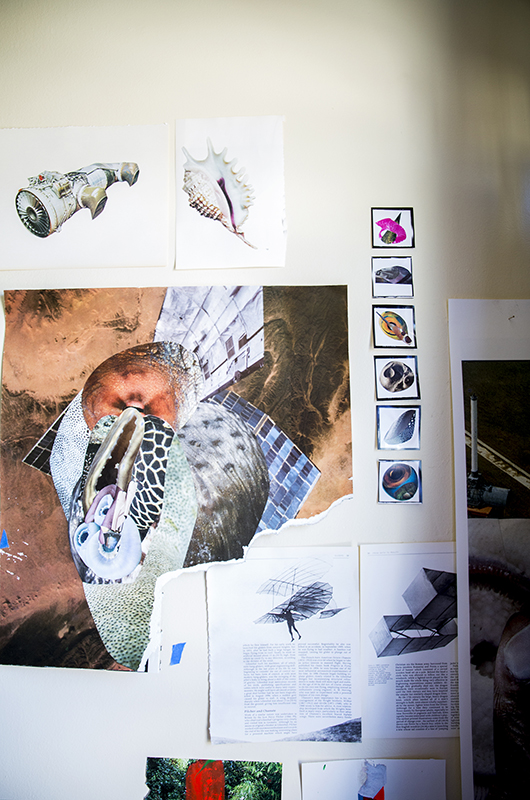 Career Choices
I come from a practical family, and I think a lot of people have that struggle you know… "Well what are you going to do?" [laughs]. However, making art is something I can not, not do. It's a way to speak about things I don't understand. There are different incarnations of my work, different bodies of work that speak to my various investigations at a particular times.
Teaching as an Artist
What I have to offer to young artists is directly related to what I am doing in my practice. The exchange that happens, sharing through my own research, is really exciting and there are always surprises and growth in all of us. There is a laboratory of ideas, moving and ever changing, and that flow and can produce different kinds of knowledge production. I've also consciously tried to construct a schedule that allows me to continue with my own practice.
Collage
Collage seemed the best way for me to articulate all the complicated sensations that were arising for me while processing these streamed documentations of violence, ecology, and a desire to understand more deeply how seemingly disparate things relate when they are mashed up in a visual conversation.
I'm interested in the image, but I'm also interested in coming away from a flat image and pushing more towards dimensional work. Ripping, altering, and tearing apart the image allowed me to let go of the need to take care of the image. I have a very antagonistic relationship with what photographs can represent and I have felt this way for a while [laughs].
Themes
I'm drawn to magazines and books that have images of science, space, or geographic exploration. With my collage work, I am creating my own topographies excavating from both physical & emotional scapes. I'm interested in the fragility of a society when its people are experiencing domestic terror and the belief systems that support this violence. It's cyclical trauma for everyone but it manifests in different ways. I'm also interested in the fragility of environment. We are changing our planet and adjusting to those changes through toxicity and ecological shifts.
Finding Your Characters
Often I work with people that I am familiar with or are in my circle of acquaintance. I'm working with a neighbor and there is subtle direction that I give her as she is this kind of wandering character in the piece I'm working on doing these very simple gestures. I also have worked with actors that I usually meet through other things I'm involved in.
Studio Hours
When I decided to pursue my art, I was also a mother, so I am very aware of what can be done within chunks of time. I've also participated in artist residencies which have been this alternate universe where my time unfolds very differently.
Studio
I've created a studio space in my home. You know, this apartment would be twice as much in New York. In San Francisco, we were living in a studio apartment and paying the same as what I pay here. Los Angeles is a lot more affordable. There is more space to think-period and there is a different kind of energy that one gets from LA culture.
LA Art Scene
When I moved to Los Angeles, I was involved with CalArts as a community. Being in dialogue with folks there was a great way to enter into a new city. When I first moved to Los Angeles, Now Dig This opened, the screenings from filmmakers of the LA Rebellion Movement, and other shows during Pacific Standard Time were happening which gave me some important history and context. There are a lot of different art spheres it seems, Michelle Dizon and I have organized a salon once a month. We meet with a small group of women to critique and talk about our work, which has been really good for me.