KIM KEI
DOWNTOWN, LOS ANGELES
We entered into the glimmering iridescent world of shed skins, broken shells, mermaid wigs and stacks of literature that is Kim Kei's studio. She shares a botanical garden with the rest or the artists at the Santa Fe Art Colony outside of downtown Los Angeles. Kim's work has three components: sculpture, photography, and painting. After seeing her workbench, I don't even feel that "multi-media" scratches the surface of the variety materials and mediums that she works with to make a single painting. Her paintings depict these slow isolated organic forms that grow and writhe in silence. Her shadowy backdrops allude to a dark and painful place but instead of crimson you'll find translucent pinks and blues - colors that you'd find in those eerie dark spaces underwater.
THE BEGINNING
I have a range of early memories connected to making which I owe entirely to my family. My Dad is a percussionist, a performer and a professor and my Mom was a nurse. She is always quilting and making clothes for my sister and me. My sister and I grew up in dance, so we had a very encouraging environment with an appreciation for the arts.
When I was a teenager I inherited my grandmothers oil painting set and my parents signed me up for one of those Sunday painters classes. Everybody was over 60. I would go in and get hugs from everybody and then I would paint ballerinas, while they painted pictures of their grandkids and talked about their health issues. I still have Grandma Helen's viridian green and some of her brushes. Sometimes I wonder if I ever really stopped painting ballerinas.
SHIFTING FOCUS
There was a big shift in my work while at the San Francisco Art Institute. I was a figurative painter working with ideas of dance and ritual. I wanted to work large scale inexpensively, so I bought a thrift store tablecloth to paint on. The ink soaked into the fabric in a way I couldn't control. I had a very bad critique on the piece so I put it into the kitchen sink to wash out some of the ink. I snapped some photos as the fabric while it folded and floated and the ink seeped into the water. When I got the photos developed, I realized they were far more compelling than my previous attempts. I painted from those photos then tried to recreate and expand from there. I used more altered fabrics dyed in water or milk, then added zippers, hair ties, and balloons, and now objects of all kinds.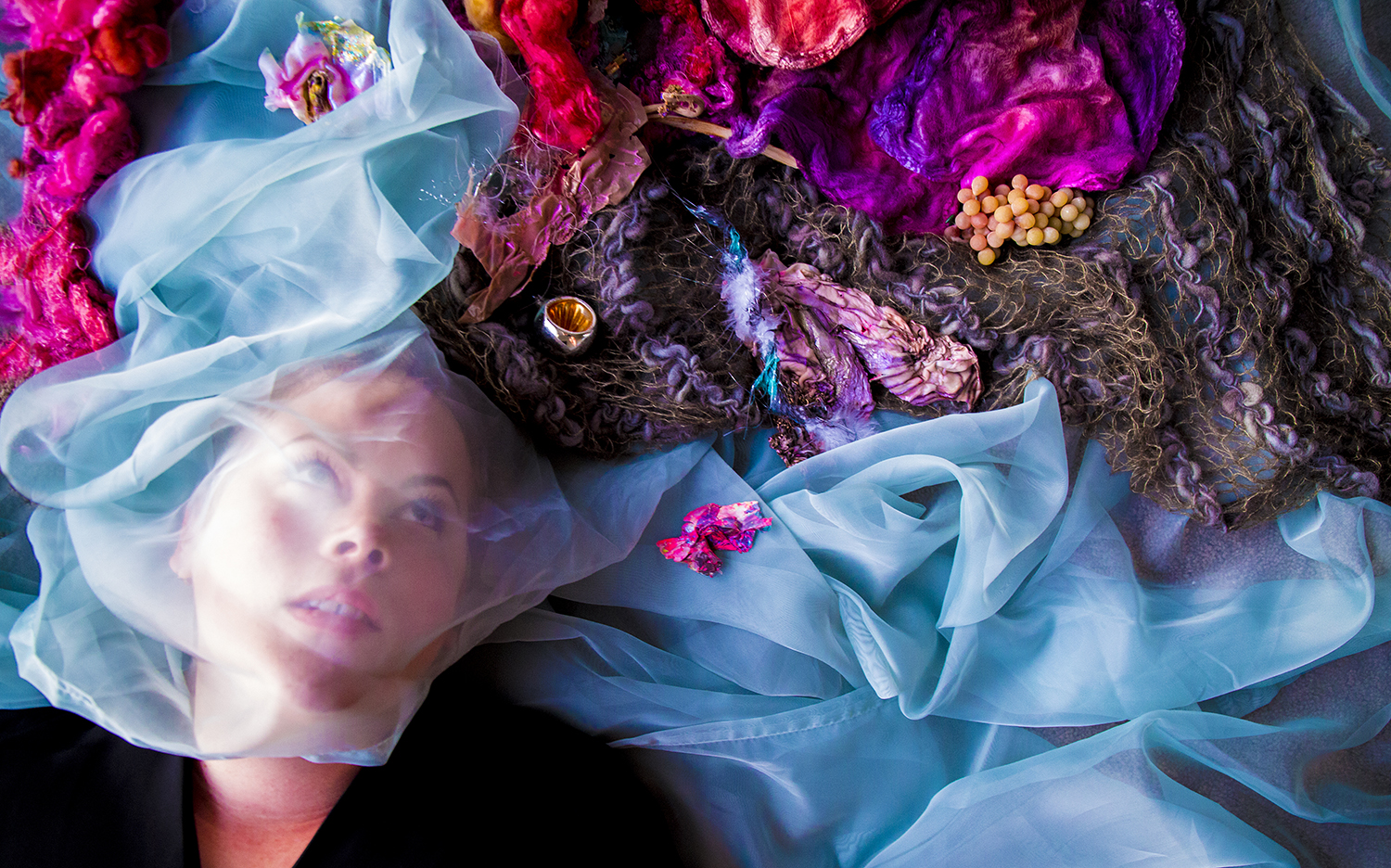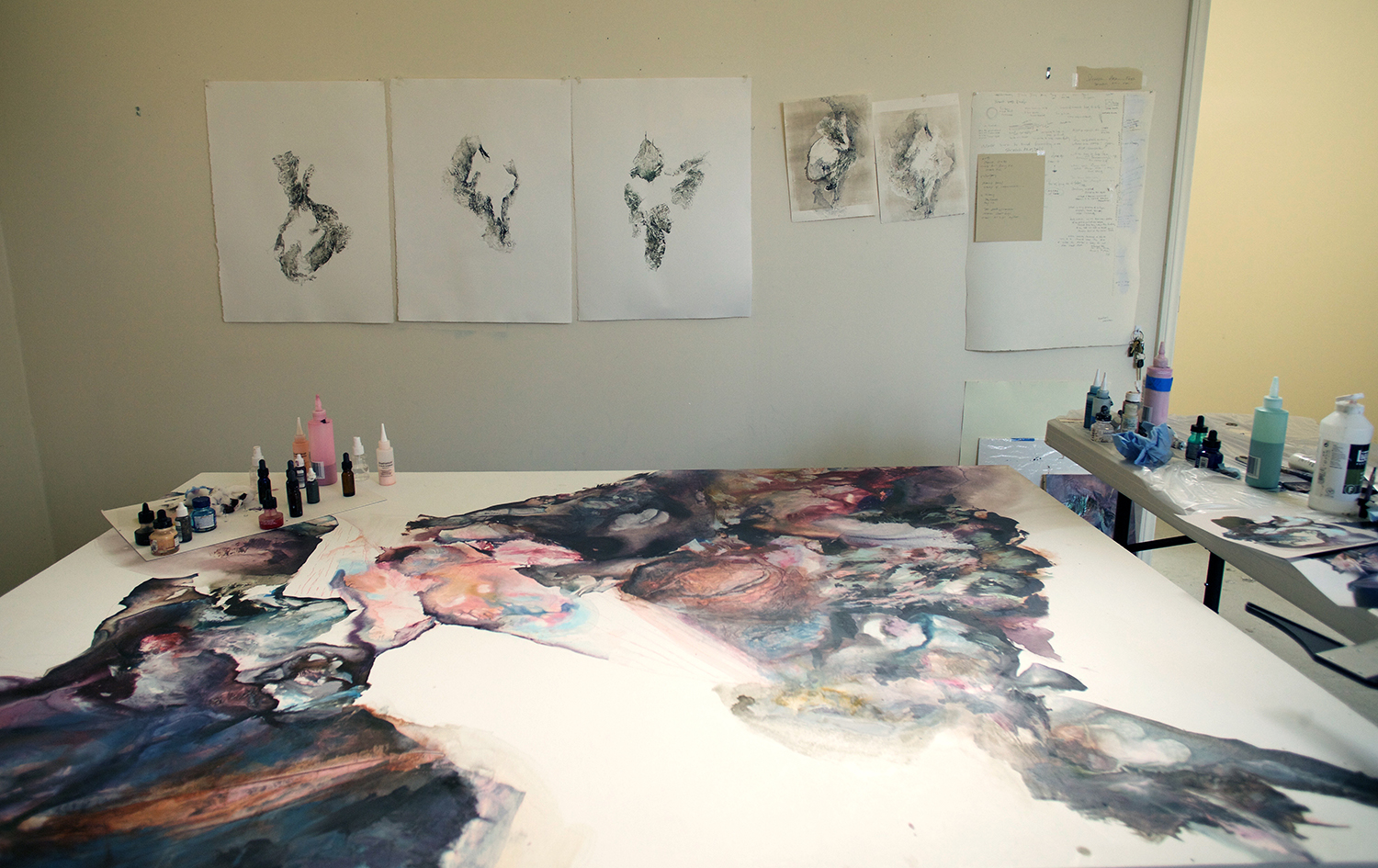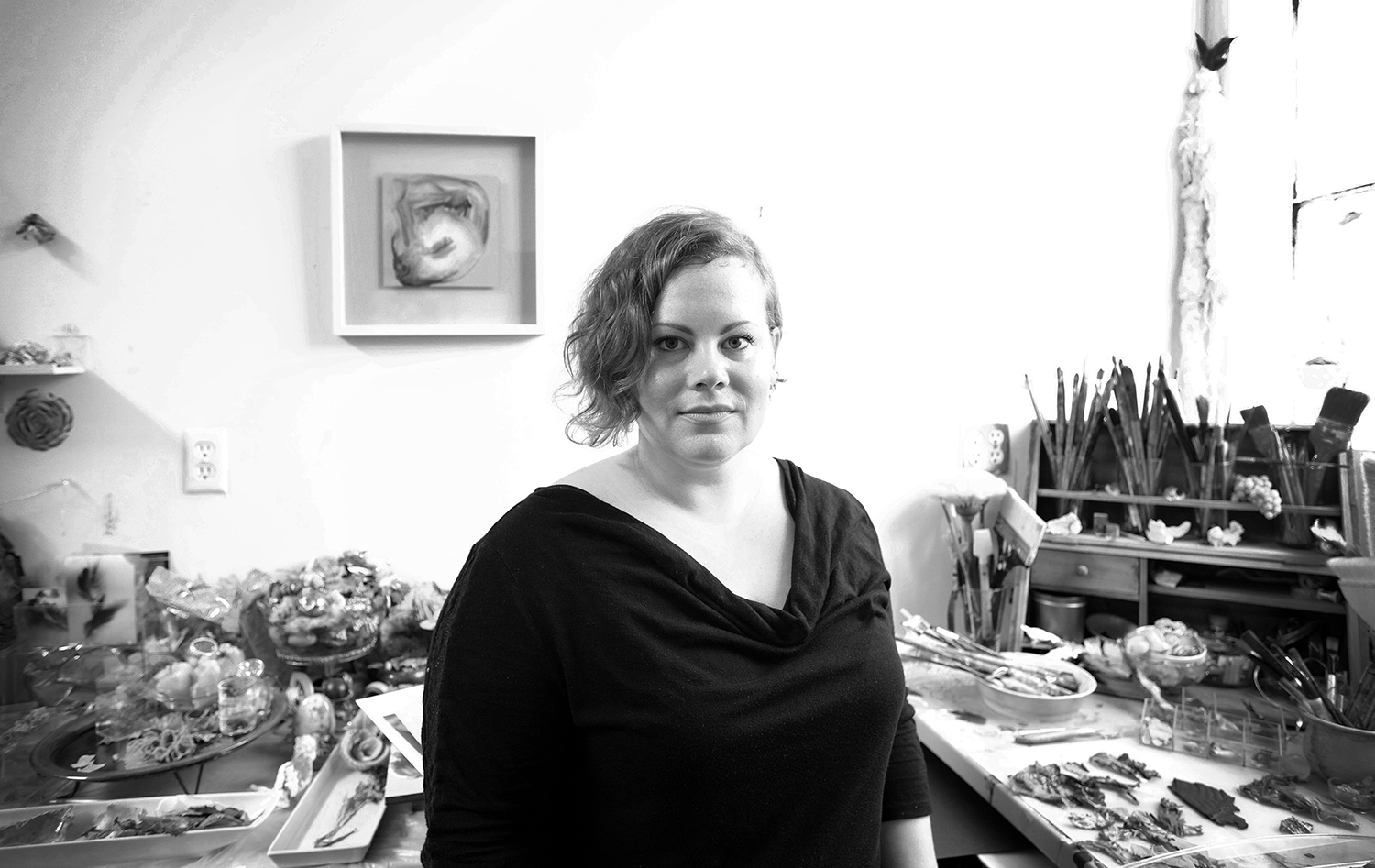 TECHNIQUE
I often begin the paintings with watermedia – inks, gouache, watercolor, and acrylic. The initial stage involves pours and spills. I almost feel like a shepherd or caretaker but it's also full of chance and play. My job is to set up circumstances and respond to what occurs. I hover over the paint watching the evaporation, waiting for the moment to sop up a puddle or reshape or scrape. I'm trying to get the marks to sing together while reading on an infinitely small scale with dendrites, veins and undulating edges that reference the body.
SEALANT
When the marks and images start to coalesce, I'll seal the work and I finish with oil paint. The switch in medium allows me to work a slower pace. I edit, push or pull, and emphasize. I use two things to seal: acrylic matte medium or a UV protected coating. Sometimes I'll use shellac.
COLLECTED OBJECTS
I'm often attracted to small, fragile, imperfect things that have been sea tumbled or tattered in ways. They make me ache a bit when I see them. I buy from a few people on Etsy who share my intrigue in a broken barnacle cluster or an animal chewed walnut. I also get personal artifacts from estate sales – usually the stuff that wouldn't make it to the thrift shop like an unfinished, hand-sewn Christmas ornament. I'm also a fan of party supplies and dollar stores.
SCULPT
The skins retain the memory of the form it was wrapped around. The stretch, pull and tears that happen in the action of wrapping and removing adds a bit of storytelling to the surface. Maja Ruznic first used the term - shed skins - to describe them. It's this idea of getting enriched by being around the form and living with this sculpture, then being pulled away.
CONCEPTS
I've been thinking about empathy educing qualities. The small sculpts make you want to cup them like an injured baby bird. We get to escape from ourselves when we're attentive to someone else's pain.
In the forms, I'm gravitating to the moment of touch or just before touch. I want them to communicate through gesture, twisting, unfolding, expanding or contracting. The forms are often referencing an internal anatomy. Usually when we glimpse at the open body, something is horribly wrong. If the forms had gravity, or were limp in a pile, it would be as though something had already happened. I don't want them to seem medical or like road kill. I want them to be an open body, undeniably alive, and moving – one that allows us to look at what we find shame in: wrinkles, folds, and misplaced tufts of hair. These often hidden parts of our bodies are shown fully at the surface and adorned with polish, and shimmering ornamentation.
INSPIRATION
My experience in dance has been an influence. Even from the way I push the paint around which has sort of a sequence of movements. I'm reading a book on a dance right now and there is this description of one of the dancers who falls on the floor and starts breathing heavily. So I'm trying to think what that would look like if I tried to sculpt that. So it's starting to head in that direction.
ENDLESS SEARCHING
My working methods during each stage of the work all seem to lean to a rigorous repetition. So much of what I do has an almost self-punishing and searching quality. I sort of burrow or scratch away at something - endless shaping with slight adjustments. Sometimes it leads to little breakthroughs or shifts in the work.
INTERNAL BATTLES
My dear friend, of 15 years and favorite painter, Josh Hagler resuscitated me from of what I call my painting coma years. He asked me to make a few works for a group show I didn't deserve to be in. The first month of painting was awful. Loads of false starts. At the end of the day I was often wiping out everything I attempted. I was waking up with anxiety and trying to talk my way out of the show. Josh took my tear-filled calls and said, "It is okay that you don't see it at this point. I believe in your work enough for us both. Just keep making the work. We've all felt this way." I stepped away from the painting I was struggling with. Took another round of photos, started a new piece and everything started to flow. I knew I had a breakthrough. It was almost as though the fight in the first piece set me up for the release of the second.
FEEDING THE BEAST
Full time- for the moment. I'm covered through my upcoming residency. I'll be back in LA in February ready to sort things out. I'm grateful to have day after day in the studio right now. The uncertainty helps create a sense of urgency.
LOS ANGELES
Having moved several times, I was surprised by how much and how immediately LA became home. I'm surrounded by friends I adore - a group of artists with such drive and insight. We are all rooting for one another.